PutYouFast.com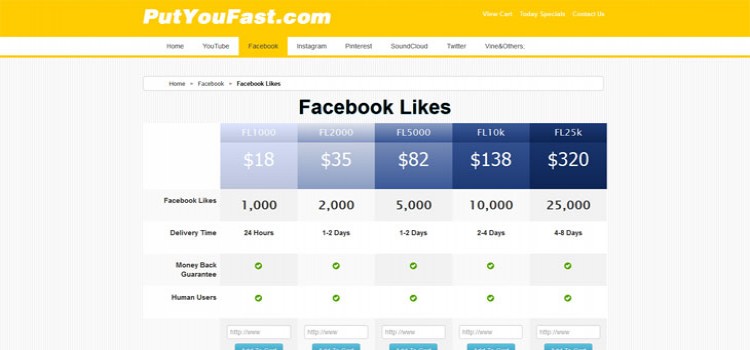 Sơ lược về PutYouFast.com
PutYouFast, the social media and marketing on the web, sets new standards in the field of social marketing and promotion of videos, channels, accounts on sharing platforms. We focus on user friendliness, confidentiality and security. So, the team here at PutYouFast is dedicated to getting you the fastest and most reliable subscribes, likes, views, followers and so much more. We really deserve to be your trustful and loyal partners, because, if you are satisfied from our services, you will come back here over and over again.
A lot of people have been purchasing our packages for many different purposes. Some people use it for personal purposes and others for business but all in order to promote their videos, channels, or accounts. So far, they have been giving good feedbacks about our services. You and your videos, channels, or accounts need to have good number of views, likes, subscribes and followers in order to stretch the length of your popularity. We offer services that could give you the number of views, likes, subscribes and followers you want to boost your popularity, be seen by many and be noticed. If you purchase such service, you can now have a good starting point to catch the attention of other users.
We have people who are always analyzing and comparing prices, and that, combined with a constantly upgrading system, allows us to perfectly balance quality and price. Therefore, our services are competitive on the web, while matching or surpassing our competitors in terms of quality.
We have made a FAQ questions answering most common questions. Please take a look at our FAQs section located in the footer section of this site and still if you do not find the answer of your question, feel free to contact us at cs@putyoufast.com or mail to:
PutYouFast Co.
322 S. Garfield Ave. #A
Monterey Park, CA 91754