Apollozone.com || Facebook,Twitter, Pinterest, Google Services
Apollozone.com || Facebook,Twitter, Pinterest, Google Services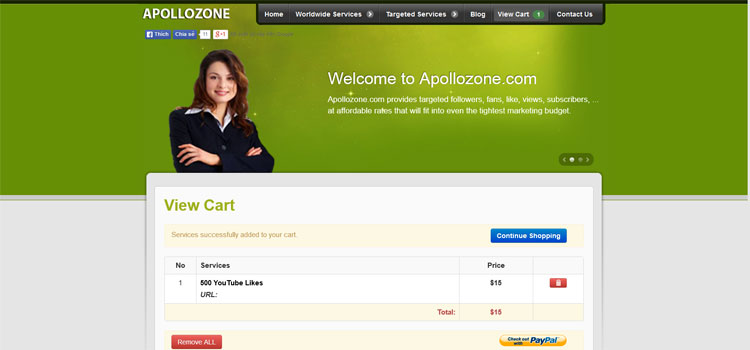 Sơ lược về Apollozone.com || Facebook,Twitter, Pinterest, Google Services
Apollozone.com consists of a group of social media professionals who live and breathe social media.  We know what's trending, and what's old news.  We have proprietary methods of sending a targeted audience to our clients' social media properties. This has the effect of helping our clients build their online presence and ultimately make more sales by increasing their following online, which helps build traffic and credibility to their unique selling proposition.

In today's 21st century "Information Age", online marketing has become much more personalized with the arrival of social media and its sheer dominance of the internet.  Apollozone.com monitors the latest trends daily.  Social media websites such as YouTube, Twitter, Facebook, Pinterest, Instagram and SoundCloud – along with thousands of others – have taken the internet by storm, with more social media sites opening every day.  It's a proven fact that having a strong following on these sites increases perceived credibility.  Were here to make that happen for our customers every day!

Apollozone.com provides targeted followers, fans, like, views, subscribers, etc. at affordable rates that will fit into even the tightest marketing budget.
When using our services, your safety is always a priority. We never share any of your information, or store it for ourselves. When purchasing a service from us you are guaranteed safety by paying with PayPal, the best way to process payments online.